studio blog
displaying studio blog entries 1 to 7 of 7
MLitt GSA
5 Mar 2016:
I now see the shape of doorways in my recent paintings and prints many of which are in an elongated rectangular form. My first experience of a residency at Dumfries House in November 2015 has been a highlight of the course so far. The calm athmosphere with no distractions stimulated an intense period of making and helped me clarify my thought processes and my making of work. More
development
15 Jun 2015:
While I am without a formal studio space my work continues using a covered outdoor area when the weather is kind. It seems a good time to test out some ideas on a smaller scale.
landscape 1 and landscape 2 (64x31cms) form the front and back surfaces of a tryptych folding screen which is free standing.
I wanted to bring together the abstracted human form with more realistic imagery painted from life and place them within a surrealist landscape. I may take this further on a larger scale when I have the space to expand and construct a full size room screen.
works on paper Attic Studio
5 Nov 2014:
I have been experimenting with drawing materials on paper rather than paint on linen, canvas and board and then applying japanese paper to the surface.
So far the lightest weight paper that is suitable for drawing without tearing is gampi. This disintegrates when I use a water based glue such as pva but a light spray of photomount seems to work well if I then use a broad soft brush, working from the centre outwards, to remove the air pockets.
Although gampi is virtually transparent allowing the underdrawing or print to show through, the slightly shiny surface of the gampi creates a subtle contrast in texture with the matt paper which I like.
The image on the right 'watercolour mallet and the magic coat' was created combining a lithograph on somerset newsprint with ink drawing as the base and then ink drawing on gampi paper applied with photomount. I used watercolour on the gampi and on the somerset. More
rsa new contemporaries 2014
13 Feb 2014:
city of dreams

Here is a collection of images taken over the last six months as I worked in my studio (Attic Studio, West End ,Glasgow) towards the RSA-NC 2014 exhibition. I see the finished pieces as colourful visual puzzles - reflections of the jumble of complex images in my head that compete for my attention. The themes are universal with threads of personal experiences. More
Savage and Tender exhibition
27 Dec 2013: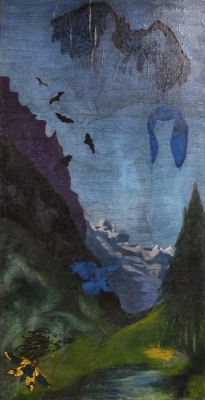 ascalaphus

My practice explores the themes of sleep, dreams and memories from the perspective of visual perception. I am interested in the pictures we create in our heads, especially those vivid images that are seared into our minds and are associated with the most intense emotional experience. These are personal to each individual and my own 'visions' form the base layer of my complex, mixed media works on canvas, linen and board.

The creation of my work incorporates painting, autographic drawing, the digital manipulation of photographs and drawings and printing techniques. More
Attic Studio
21 Jun 2013:
Can't quite believe I now have an attic studio space in the West End with 5 other artists. Moving in gradually. North light through a window which opens, and I look out over trees! More
Degree Show June 8th 2013
8 Jun 2013:
I am writing this at the end of the first day of the public viewing of my year group degree show at The Glasgow School of Art. After such an intensive period of creative work in the final year of a 4 year course I hadn't expected to be so overwhelmed by the sheer excitement of getting the show together with my fellow students in Fine Art. Such a delight to discuss my work with so many people from outside the art school world and to find that they like what I have been doing, so much so that most of the pieces on display have been sold. More